| | |
| --- | --- |
| Das Hochradrennen in Davis/California 2002! | |
Den folgenden Bericht hat uns Mike geschickt. Viel Spaß beim lesen.
I had a great time in Davis. Yes very stiff competition. The five races the sprint,slow ,slalom,straight & narrow and the mile race.In my sprint qualifier I led all the way and was past in the last few meters to place second behind Adam Barron, and in front of Greg.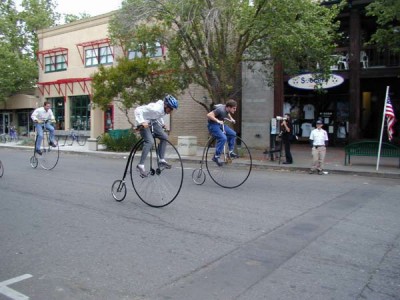 The first two to cross the finish advance to the final. A very close race! In the final sprint I placed fourth. behind Brodie Hamilton, Pete Wagner, and Adam Barron. I won hands down in the slow race, way behind everyone. Riding my 36" coker unicycle really gives me an edge when I ride very slow on my high wheeler.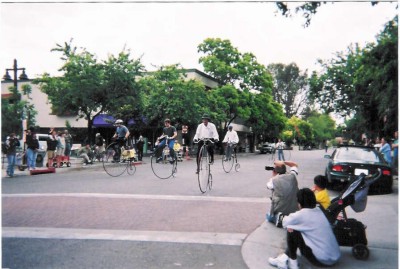 In the slalom race, at the third cone my handle bar neck slipped and the bars turned to about a 45 degrees I barely saved it from a disastrous crash. I was able to finish the run but with a poor time. This will never happen on my new bike. No bicycle handle bar neck to slip! Greg Barron hit a cone in the practice run and took a nasty header jamming his elbow, leaving him in to much pain to make it into the mile event.
When they announced to get ready for the mile I walked up to Adam Barron and showed him my shirt with one of my wife's band logo's on the front, then I turned showed him the back side of my shirt - and very politely told him to just keep his eyes right there on my back side. And with that everyone came to the starting line. I squeezed in between Adam Barron & Brodie Hamilton. I knew Brodie was today's favorite pick to win.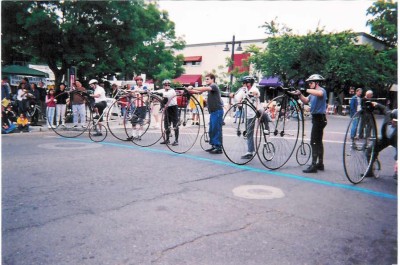 In the mile race, four laps around a city block I knew that I had to get as much distance as I could between me and the bikes with bigger wheels. I had the only 48" bike, so I took off with every thing I had. I was able to get way out in front ( about 100 meters to second place after lap one ) and held on until about half way on lap three when two bikes passed me as I could not hold the same pace I started with. The first one was a beautiful old Star Eagle, ridden by Jaques Graber (race winner four years in a row)it was very distracting to see him just peddle past me.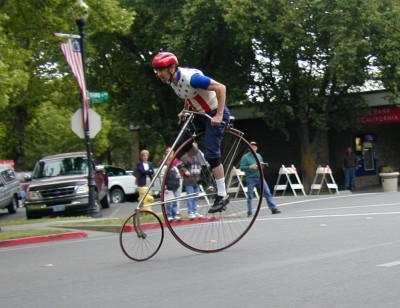 The other was Brodie Hamilton on a 56" bike. As he passed me he said "come on Buba". I could only laugh and reply I am I am!! As he went by I could see that we were peddling in exact unison, of course with the bigger wheel he just seem to walk away from me. The last lap was grueling I was all but spent and was passed by two more bikes, and with that I finished in fifth place.
Overall a very good day. Adam was about 100 meters behind me at the finish!

Kontakt
|
Hochrad - Home
|
WUK - Fahrrad - Selbsthilfe
|
WUK - Home page
---
Wer - Warum - Wie - FASQ | Bilder - Einrad | Gästebuch - Kontakt - Ausflüge - Chronik - Links
Galerie - Fahrtechnik - Technik - Artistik | Termine - Routen - Berichte
webmaster