| | |
| --- | --- |
| The Stanford Races 2003 | |
Mike sent us this report about what's going on in California.
It was a very fun day at the Stanford races. HAE's recommended method for starts (left foot- right foot and mount = very fast)I did very well in the slalom with the fastest time. (Gold)medal.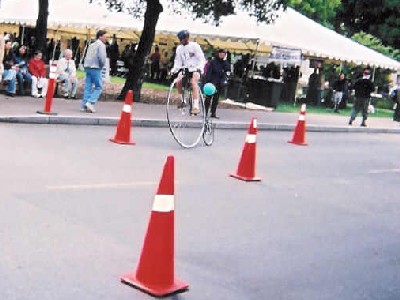 I also got a (Gold) in the straight and narrow! that one may just be more luck than skill, but I'll take it.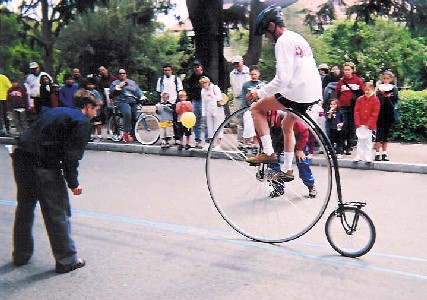 The slow race I fell over just before the finish, I saw Greg Barron next to me, (Greg can ride very slow) and the finish line right in front of us, I slowed as not to cross it before Greg no matter what. (What) was too much, Greg Barron won the slow race.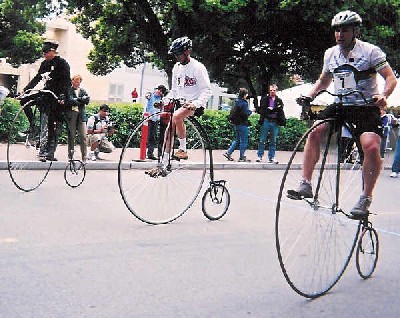 In the 200 meter sprint I had the fastest qualifying time of the day. All four heat race winners, finished within one second of each other. between 20 and 21 seconds. Sprint race winner Ted McDonald sent me an email with the following fact: World record for 200 meter sprint is 19.32 seconds by Michael Johnson USA. That means that the fastest sprinter would have beat us in the race. None of us got below 20 seconds!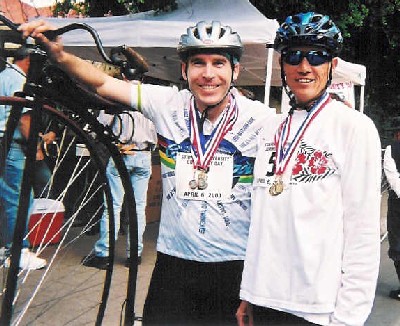 In the main I once again had a very good lead at the start, then my right foot slipped off the peddle.I got my foot right back in place but I was already passed by two riders. I was almost able to repass Brodie Hamilton,on his 56" bike for second, but ended up with a third place finish. (Bronze)medal My 52" Dechant Bike ruled the starts all day.!!!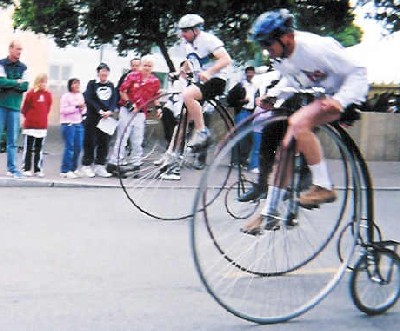 OH yea, the Stanford bicycle safety Mascot (SPROCKET MAN)!!!So there he is.After the races, we see him over at a both alone, so I tell Sprocket Man (I Don't even have a sprocket, but I love you for promoting bicycle safety) his reply was,( Come on over here little buddy and I'll give you one). Nice photo.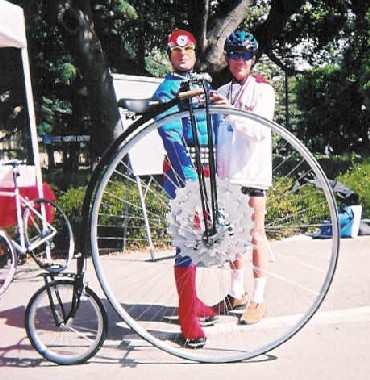 Contact us
|
Penny Farthing - Home
|
WUK - Fahrrad - Selbsthilfe
|
WUK - Home page
---
Who - Why - How - FASQ | Pictures - Unicycle | Guest-book - Contact - Excursions - Chronicle - Links
Gallery - Riding technique - Technique - Stunts | Dates - Routs - Reports
webmaster